MINI-GAS Boilers Series
Allied Engineering is extremely proud of its compact Mini-Gas series which is ideal for today's energy efficient home, condominium or townhouse. Mini-Gas Hydronic Heating Boilers are manufactured to the highest standards for performance, efficiency, and reliability
MINI-GAS Series boilers are available in five compact sizes: 50,000, 75,000, 100,000, 125,000 and 150,000 BTU/HR input in standard or packaged models.
All models are available with our unique factory mounted and wired ZONE CONTROL BOARD.
Minimum clearance of 2" to combustible surfaces on both sides and rear.
All MINI-GAS boilers are approved for installation on combustible floors. There is no extra base or added cost required.
Approved for closet installations.
Automatic vent damper is standard with AFUE rated boilers. (Annual Fuel Utilization Efficiency of up to 84.65%)
Heat exchangers designed to ASME code standards for industrial steel boilers.
ASME certified manufacturing facility.
Blocked Vent and Flame Roll Out Safety Switch – Standard.
Packaged (PS) models available with many components, some mounted and wired for your convenience.
NRCan Qualification for Mini-Gas Boilers
ENERGY STAR Qualification for Mini-Gas Boilers
Components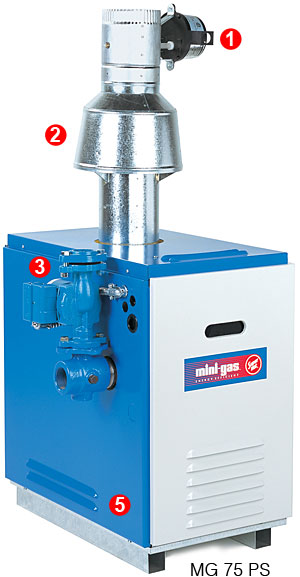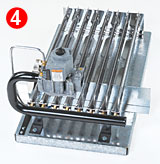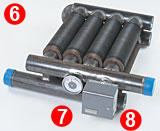 1.
1.Automatic Vent Damper
Supplied with all boilers, the vent closes when the boiler is not firing preventing heat loss and, more importantly, conserving energy.
2. Standard Draft Hood
Prevents down draft and exhaust flue gases through the chimney. Includes a quick connect Blocked Vent Safety Switch.
3. Circulator/Pump and Cast Iron Adapter
Included on "PS" models and supplied wired and mounted, or wired and loose if specified.
4. Long Life Stainless Steel Burners
Scientifically designed for quiet operation and maximum efficiency. Burner drawers slide out easily for inspection and service when required.
5. Combination Gas Control
Controls include manual valve, two automatic operators and servo pressure regulator to provide dual-seated 100% safety shutoff.
6. Steel Fin-Tube Heat Exchanger
Our unique double pass design uses 1/2" fin spirally and continuously welded on 2" OD SA 178A industrial steel boiler tube to maximize heat transfer area.
7. Temperature/Pressure Gauge
Factory supplied gauge indicates operating temperature and pressure of the boiler.
8. Integrated Boiler Control
Advanced Honeywell® control with electronic spark ignition, thermal purge and limit rated water temperature control. Simple programming and LED display for quick installation and diagnostics.
9. Flame Roll-out Safety Switch
For added protection, the safety device shuts the boiler down.
10. Enclosure Panel
A durable and attractive panel protects controls and wiring.
Standard Models Include:
• Integrated Boiler Control
• Zone Control Board
• Stainless Steel Burners
• Combination Gas Valve
• Temperature/Press Gauge
• ASME Safety Relief Valve
• Drain Valve
• Draft Hood
• Blocked Vent Safety Switch
• Flame Roll Out Safety Switch
• Automatic Vent Damper
"PS" Models Include:
• Standard model parts plus:
• Circulator wired & mounted
• Custom Cast Iron Pump Adapter
• Expansion Tank
• Air Purger
• Combination Fill/Pressure Regulating Valve
• Automatic Air Vent
PERFORMANCE
The Mini-Gas series' proven performance is the result of our continuous refinement of design and years of experience in building boilers to ASME standards. Our roll-formed stainless steel burners have been scientifically designed and lab tested to be clean burning and extremely long lasting.
EFFICIENCY
The key to the boiler efficiency is our unique DOUBLE-PASS steel finned tube heat exchanger. Using the strength of 2" OD industrial boiler tube, the heating surface area was maximized by spirally and continuously welding a 1/2" fin to each tube. The result is one of the most efficient atmospheric boilers on the market today.
RELIABLITY
Over 65 years of hydronic heating experience backed by unsurpassed service make the Mini-Gas boiler the reliable choice for applications including in-floor heating, radiant panels, baseboards, snow melt, and indirect hot water heaters. Every boiler is factory tested as part of our stringent quality assurance program.
WARRANTY PROTECTION
Mini-Gas are manufactured to the highest standards, employing only top quality materials and workmanship. Our proven design features a TEN-YEAR heat exchanger warranty and one year on all parts and controls. Please refer to printed warranty for details. Installation and service manual provided with every boiler.
USER FRIENDLY DESIGN
Boiler Controller: The Integrated Boiler Control provides spark ignition, safety and operating functions in a single and easy to program unit, pre-wired with plug-in connectors for quick installation and service.
Zone Control System: Our exclusive Zone Controller handles up to 4 zones with separate plug-ins for zone valves and LED lights to clearly show which zones are being heated. If required, additional boards can be added to increase zone capacity.